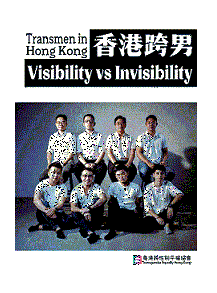 'Transmen in Hong Kong: Visibility vs Invisibility' story booklet out NOW!
Following the release of the
short video
of the 2-part project 'Transmen in Hong Kong: Visibility vs Invisibility', we are now releasing the e-version of the bilingual story booklet, to bring attention to the invisible HongKongese transmen who are not legally recognised in their acquired gender.
HongKongese transmen are the minority within the minority of LGBT+ people in the city. Due to various reasons, little attention has been given to us and the issues we face. We are marginalised to the extent that we are close to being invisible.
We have to be seen to be believed that transmen are men. Therefore, our organisation, namely Transgender Equality Hong Kong, came up with this story-telling project. Our group of 8 transmen, with a number of novices amongst us, decided to come forth and show the world who we are as a diverse community.
There is much richness within our group – we have members who are disabled, of ethnic-minority, young, about to get married (but can't do so in Hong Kong), just to name a few. With the said diversity, we share the same wish: We want to see the Hong Kong ID gender marker lawsuit achieving its final victory next year, so we can have our male ID back, live a dignified life in Hong Kong, and continue to contribute to our home. The case was heard on 4th Jan 2023 by the Court of Final Appeal and the decision will be announced soon.
Download 'Transmen in Hong Kong: Visibility vs Invisibility' Booklet (English version)